Dad's Memories

- 19 August 98

- 04 September 98
Cousin Russ -- Russell Hartley
Russ's folks lived just one block over from our house, at 222 Martense St. Theirs was a two story "row house" a Duplex where they occupied the ground floor and rented out the upper floor apartment .
Cousin Russ was ten or more years older than we kids, and tho we visited back and forth often, neither my brother Art or I - because of the disparity in age, got to be very close to Russ as children. He'd most often be out with his peers when we visited Uncle Guy & Aunt Sevela, mother's older sister. Aunt Sevela was known to us as "Aunt Wee Wee" short for Wee Wee Elephant. She was quite a large lady.
An early recollection of Russ is when he came around to our house on his "motorbike". A regular bicycle with a third, motorized wheel, attached to the rear wheel. Poppa happened to be home that morning. I had my arm in a sling, from having my Roller skate scooter dump me headfirst onto the roadway, and Russ talked Pop into trying his proud new Motorbike. Father started off fine, away down Lloyd St but had to ditch down street to avoid running into some kids playing in the road. Left the bike there and came back with a broken shoulder - now we had two in the family with their arm in a sling. Russ apologized for not telling Pop that the bike did not stop too good. Never saw any more of that Motorbike.
When Pop had need for a second salesman, to cover the Bathing Supply customers, he hired Cousin Russ. Russ had a penchant for "nice" cars to drive about on his Sales routes - and to make a good impression on the girls. I vividly remember an Austin boattailed two seater speedster - guaranteed to have been tested at 120 MPH - and this is in the roaring 20's. A privately owned highway, "The Vanderbilt Speedway", ran some 60 miles down the length of Long Island - charged a fee of $1 to drive on the roadway - and Russ often took that Boat-Tailed job out on the Speedway for kicks - alone or with the current galfriend. Sorry, I never did get to try out the Vanderbilt Speedway. I think it eventually was gobbled up to make room for development
When I got out of NYMA, and Pop's business had gone belly up in the great depression, Cousin Russ was working as a salesman for a local Auto Dealership. One day Russ called our house. They'd just taken in a '27 model T Ford roadster in good shape - Rumble seat, nice top, fair tires - would Art or I want to buy it. A real bargain at only $15!!! - it would not remain there very long. Art already had his own car. I got hold of Harold Jost - boyhood chum & neighbor - and we hustled/walked down Flatbush Ave to the Dealership. There it was out by the curb --- yep, a '27 Model T, pretty as a picture. Between us we didn't have $15 bucks, so Russ poneyed up the difference - long as we'd pay him back - and we drove away in our own first car.
That model T ran fine - we drove it a couple of hundred miles up to NY Nat'l Guard camp at Plattsburgh NY - drove up to Bear Mt. for picnics - drove out to Jones Beach for daytime swimming, or nitetime concerts. And - Oh Yeah, one time it didn't make the trip to Jones Beach.
The model T transmission box, under the floorboard, had a plate on top - for access to adjust the "bands" that drove it - one for Reverse, one forward, and one for braking. Tho there was nothing really wrong, I decided to tighten up the brake band one morning - getting ready to take a then girlfriend the 35 odd miles out to Jones Beach. So off with the transmission cover plate and tightenup that brake band a bit. All was fine till I dropped the openend wrench down into the Transmission Box, and could not retrieve the blessed wrench.
Fortunately, we always seemed to have several cars about, and good ole Poppa let me take his fairly new Hudson sedan for the days trip to the beach. Only drawback, even the "new car" already smelled to high heaven from the eternal cigars, or cigar stubbs, that Pop had in the corner of his mouth - to chew on more than to smoke. But, we had a nice day, and Jim had a good friend mechanic fish out the wrench, and check out all the bands on our "T".
In the fall Harold drove the T out to his family's summer place out in Maspeth L.I. and it did not return. I did not care, I'd had a lot of fun for my $7.50 share.
When Cousin Russ finally got married we were up at the "Farmhouse" in Haddam Neck for the summer. Russ and his gorgeous Bride came up to spend part of their honeymoon at the farm with us. Russ knew people at a summer camp nearby on the Salmon River. This river joined the Connecticut River a bit downstream and the two rivers formed a peninsula - Haddam Neck. We all drove over to Elm Camp on the Salmon River, Russ played a mean Ukelele, brought that along and we had a great sing along with the campers. The camp was about 3 or 4 miles, as the crow flies, and about 1 mile upstream from the spot we used as a swimming beach - down the hill, thru the woods from our house. (Click for: Connecticut Map Haddam Neck Map)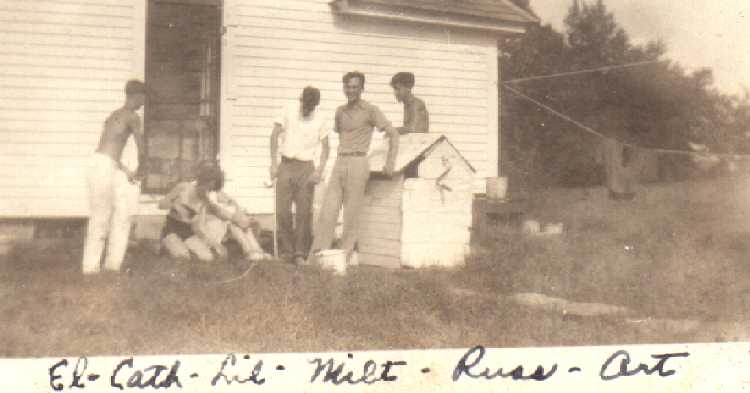 August 1929 - at the Farmhouse- Haddam Neck, Connecticut
El (dad), Aunt Catherine, "Lil" (?), Uncle Milt, "Cousin" Russ Hartley, Uncle Art
The camp counselor friend of Russ sold Mom on buying one of their 18ft older Kennebec Canoes- for convenient travel back and forth to the camp. Somehow there came to be eight of us crowded into that canoe on one trip to Elm Camp - had about an inch freeboard - paddled very carefully and made the trip safely, if dangerously. We left that canoe lying in the open on "our" beach all summer for several years, carrying it up the long hill to the farm at the end of summer.
..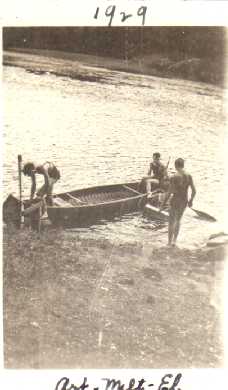 Summer at the Salmon River Beach, 1912 .............................1929..............
"Our beach" down on the Salmon River was a popular swimming spot for Neighbor families on the Neck and they always had access to the canoe. Then one day one of the Johnson girls, in her 20's, went down alone to the river - and did not return home for supper. They found her next morning, with the overturned canoe in the midst of a patch of Lily Pads, some picked and in the canoe. Never determined, or never heard, whether it was accidental - or deliberate. After that unfortunate incident, we didn't bring the canoe back up to the house.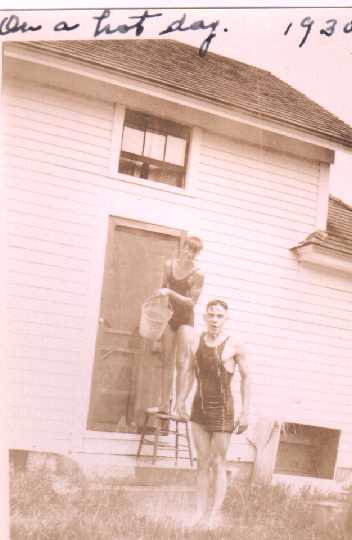 How to cool off on a hot summer day at the farmhouse in 1930 - Dad with the bucket - Uncle Milt - just got "cooled"

Taking the Hupmobile & wagon for a ride around the farmhouse - 1930
Uncle Milt & Dad on the wagon, Uncle Art at the wheel
Again, in late '33, Russ was now working selling cars at a used car lot in Flatbush, and he called to say they had a very nice '30 Model A Convertible - in top shape - all the goodies, new top, dual spare tires mounted in the side fender wheelwells, special optional large hubcaps, rumble seat, trunk mounted on a carrier out back, and very clean.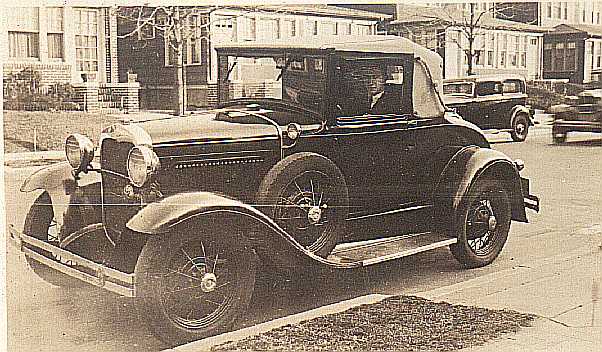 Dad's 1930 Model A Ford - 1935 on NY Avenue in Brooklyn
I could get it for only $95. By this time, 'tween working downtown fulltime, odd job gigs playing in hotels or beer gardens, occasional checks from the 101st Cav, and part time teaching the brass at the church sponsored band - I had enuff cash saved up - and hustled over to buy the second "my own car". Kept that for a year or so, 'till we moved to an apartment on Linden Blvd. Parked it on the street then, 'till they started to enforce an overnite parking ban and I reluctantly sold my pet rather than pay a bunch of parking tickets.
Russ later worked at a Finance Company, handling car loans for them, and last I heard he was manager at a niteclub out on Long Island. We lost track of him...



This page created with Netscape Navigator Gold
This page has been visited
times.