Dad's Memories
Life in Glastonbury, Connecticut

- 08 May 98

- 10 October 98
Click for: Connecticut Map Glastonbury Map
We stayed in "Arnold's" house for 10 yrs. Grace did freelance secretarial work around the area that eventually led to our next move - to Glastonbury, a nice suburban town, expanding due to it's proximity to Pratt&Whitney Aircraft. One of Grace's clients was a Mr Jock Littel. Gosh, I know Jock - he's head of the whole Computer Lab at P&WA - his people have helped me on some Projects, a nice guy.
Grace & Jock's wife Elenore had hit it off well & became good friends while Grace was doing work up at their home. Same age - kids the same ages, both interested in League of Women Voter Activities. The Littel's had a big old house, with a big chunk of land on Orchard Hill - an exclusive section of town, and Elenore broached the thought that jock planned to develop that unused land, save Tax Dollars & sell off the property they had no real use for. Would Grace & I maybe consider buying a lot and building here in G'Bury? Besides, it's so much closer to El's work at P&WA.
We drove up to visit, walked around a bit - liked plans for a Cape Cod, shown us by the Contractors who were to build in Jock's "Littel Acres" and loved the location. We picked two 100' by 200' lots, made a deal with the Contractor to build that nice Cape Cod on one lot, and leave the other lot vacant, and in 1950 commited to own our second "very own home".
On the way from work I could make a small detour and see the place take shape. Of course, weekend family junkets to OUR NEW HOUSE were the main order of business for all the Langdon's. With the project started, Bert Mucklow, Jock's realtor, asked if he might handle the sale of our home on the Neck. Within two weeks Bert brought down to "The Neck" a young couple - also from P&WA, who thoght our place was just perfect for them - at $10,000. The Harris' were then renting and agreed that closing could be at our covenience - when our new house was ready.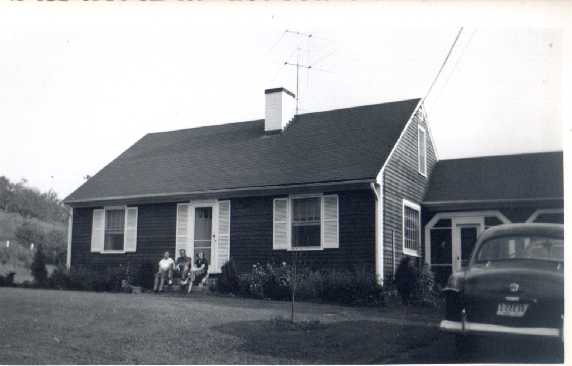 7 Littel Acres Road - Glastonbury, Connecticut - September 1952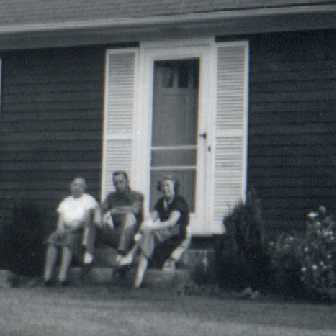 Granny, Dad, & Mom
This move changed our life. From a rural farm community to the suburban more exclusive atmosphere of G'bury was a drastic change in lifestyle. A busy social life, much involvement in Scouting and school activities. For Grace especially, more extensive, more rewarding Free Lance Secretarial work, and with friend Elenore doing Research to establish League positions on Local, -State, -or National Affairs. All this research led to Grace being elected President of the Greater Hartford League Chapter, then to being asked to write speeches for the Connecticut Governor, and later to assist in Specialized Research under a Federal Grant at Wesleyan University in Middletown Ct.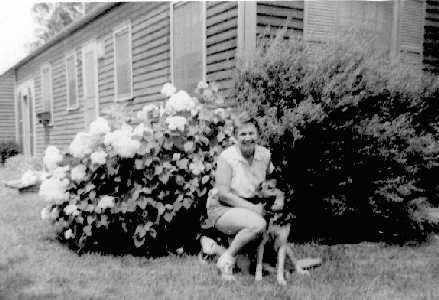 Mom & Lobo, back of house - 7 Littel Acres Rd - Glastonbury - 1957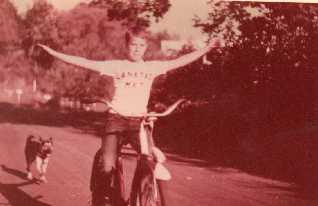 Rick & Lobo - 1957
Clearly, Grace thrived on the opportunity to make use of her array of exceptional talent. And after 10 yrs of this active & enjoyable living, came a Bombshell - Mr. Motycka called me into his office with the news that P&WA wanted me to transfer to the new Florida Research & Developement Center (Rocket Engines) near West Palm Beach.
Assignment - form an Industrial Engineering Dept, reporting to the Gen'l Mgr. - and get their operating costs under control.. Having heard rumors about the "Caste System" prevalent at this new and Hi--Tech mecca of Engineering Bigwigs (and me a lowly Highschooler) I was reluctant to enter such a hotbed of problems. Mr M said, "you've had the best of my college grads working for you for almost 20 yrs with no problem ever, and besides it's an opportunity to move up that I can't give you - take the chance and go". So...... in January 1961 we headed off to Florida....



This page created with Netscape Navigator Gold
This page has been visited

times.