Dad's Memories

- 08 September 98

- 12 October 98
Our Maine Campsite - Mt Blue State Park - Weld, Maine
We began Recreational camping in 1950, when Helen & Fletcher Freligh, Architect, neighbors in Glastonbury asked if we'd accompany them on a weekend camping trip to Coolidge St Park in Vermont where there were CCC built log leantos that you could reserve in advance. Fletch was a good salesman, and we bought sleeping bags for the occasion. We all stayed in one 10x12 ft log leanto, spread the sleeping bags on the raised wood floor, had a generous supply of firewood under the rear overhang, cooked over the fire in a fireplace out front, had a nice view over the Vt hills---and were sold on State Park camping. We camped at several Vt State parks with the Freligh's on weekends.
With vacation time approaching, Grace looked thru Maine Park literature, saw an article on camping at a Mt Blue State Park. Called the phone # listed and talked with a Mrs. Edith Stulpin, the Park Supt.'s wife. Grace explained that we'd enjoyed camping at Vt. Parks in their leantos, and asked if there were such leantos available at Mt Blue. Edith-- (they had an immediate rapport)-- said the sites in their camping loop were set up for trailers, or tents, tho they did have one very large leanto, at a location remote from the camping loop, used for groups --like Boy Scout troops etc. -- accessible only by boat, about a quarter mile down the lake from the main beach area. They'd never had a family camp there, however, it was not yet reserved for the first two weeks in August -- if we wanted to camp way out in the woods... And, after a lengthy "visit" on the phone, we had a reservation to camp at "South Shelter" - Mt Blue State Park on our vacation.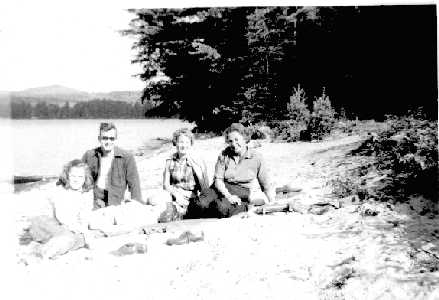 Camp friends (Leah Tomford ?), Edith Stulpin and Mom - on "our beach" - Mt. Blue State Park - 1957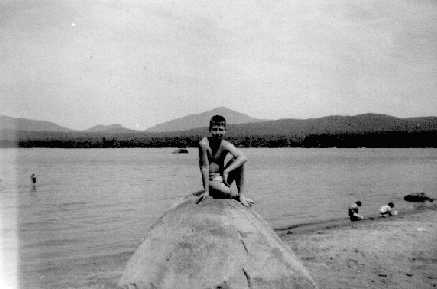 Rick on the rock - main beach, Mt. Blue in the background - 1957
(Click here for an almost the same Pic from our 1998 trip)
The 300+ mile drive to the Park was always an adventure. Our German Shepherd, Lobo, named by the boys, after a former neighbors Shepherd -- was the worlds worst car traveller, excited, barking at things, jumping around,... Our Vet gave us some pills to quiet Lobo down, but wobbly, and half out, the boys still had a time with him in the back seat.
At the Park HQ, the Park Supt's home, Edith Stulpin welcomed us, and directed us to the Camp Area -- over on the opposite shore of the large lake (Lake Webb). Checked in at camp HQ, Ed Stulpin filled us in on camp routines, we piled in one rowboat, Ed loaded our gear in another ,and we rowed down to our private campsite. In a clearing, about 100 ft wide, and back some 200ft from the lakeshore, was the huge log leanto (about 14' x 28') dirt floor, built under FDR's 1930's CCC youth program, logs over a foot in diameter, with a six ft overhang in front, a big fireplace out from the overhang, a "pitcher pump" about half way down to the shore - where we had our own nice sandy beach - a clean "Chick Sales" one holer off in the woods nearby -- all the comforts of home - and isolated.
Dad getting ready to do the honors - South Shelter - Mt. Blue State Park, Maine - 1957
(Click here for an almost the same Pic from our 1998 trip)
Back at the large cleared lakefront playground/beach area, a bulletin board announced Square Dancing in nearby Weld on Friday nites. Talking with Edith during the week, Grace remarked that we were avid Square Dancers back home and arranged to meet the Stulpin's there Friday. Had a good time dancing to a fine local caller. Grace told Edith that I "called" for groups at home, and Ed asked if I'd call at the camp -- if he could get a record player, and borrow some records from the caller. He did locate an ancient wind-up Victrola, and his friend the caller let him have three or four records.

There was an identical Leanto at the main beach playground - and we danced evenings on the grassy area by the Leanto. Had as many as 3 squares, mostly beginners, whole families, and by Friday of our second week we'd made some converts for the Friday "real dancing" in town. That solidified next years "reservation" for our private campground at the big Leanto, and we returned to camp there for nine years. Over the years, many of the same people returned year after year - to camp and dance - the first two weeks of August, until Pratt & Whitney transferred us to Florida.

For our next years camping, we picked up a 14 ft - square ended canoe and a 3hp outboard so we could explore a bit on the large lake. Carried it on a roof rack. The boys had a ball with that - raced Ed Stulpin on his "big" 25 hp outboard - and beat him too, that canoe moved right along -- and Lobo was first one in the boat with the boys. Grace thought the canoe was a bit unstable, so we changed to a 12 ft, wider beam PennYan cartopper, and a 7 1/2 hp Evinrude -- now the boys could really fly, no competition from Ed.

Moved the PennYan to Florida in '61.

And the boys grew up. When Jim turned 16, Ed offerred him a summer job as Ranger/Lifeguard at the camp ($50/week). That was a good experience, first time away from home and on his own. Had some interesting incidents too -- like getting a frantic call late at nite that there was a Bear at one of the campsites - checked it out and found a Raccoon up in the tree --- Well, it looked like a bear to the campers.

Edith said there were lots of Blueberries up on "Tumbledown Mountain" - at the head of the 6 mile long lake. And there were!! Up above the tree line in all the rock crevises. Quite a hike up the Mt., and a breathtaking view from up top. We'd brought along pails for each one to pick berries - soon found out that tho the boys were busy picking, there were very few berries in the pail. Grace warned them that if they just ate all they picked, they'd not get to eat blueberry cobbler back at camp. That got a few more into the pails -- very few more. Good days outing, a "must " for each years camping trip. Also up on top of that mountain there were a few fairly good sized ponds scattered among the rocks. After a sunny afternoon's blueberry picking - down in the bushes where the sun shown down and not a breath of air stirred - they were "just right" for an ice cold skinny dip to cool off.

There were fishermen on the lake but they did not seem to be catching very much. Ed asked me if I'd like to go with him to his "private-secret" lake for Trout. I couldn't fish, as I had no license, but it would be an interesting trip. We drove for 1 1/2 hours, turned off on a dirt road for several miles till we came to a locked gate across the road at an old abandoned RR track. Walked for 15 minutes on the RR bed and reached a lake. Here, Ed said "follow me, and be careful to step in my footprints". Went up the hill to a huge rock, and in a hollow below the rock he unearthed a very small pram and a pair of oars. Now I could row the boat -- go over there where there's a riff on the water -- go that way a bit - and wherever we went he'd catch trout. Threw 'em back till it was the right size, caught more after we had reached the limit of keepers. A fishermans paradise! The whole area was owned by a paper company, Mt Abraham rose up from the lakeshore. Had our fill of fishin', carefully put the pram back in its hideout, erased our tracks as we came back to the RR bed, and returned to camp. I couldn't hold a pole, but we divided the fish. And, prepared according to Ed's instructions the Trout was delicious, cooked over the fireplace.
That was 40 years ago, and we've kept in touch over the years. Ed left the Maine Park Service and was Supt at a Park on the Rhode Island shore. Recieved a letter from Edith last year, Ed is not in good health -- getting old -- aint we all.



This page created with Netscape Navigator Gold
This page has been visited

times.