Dad's Memories

- 03 September 98

- 03 December 98
Boats, Boats, Boats - Mid '50's thru the early '90's
For camping at Mt Blue state park in Maine, we had a 12ft PennYan cartopper, lite weight, stable, ideal for use on the park lake (Lake Webb).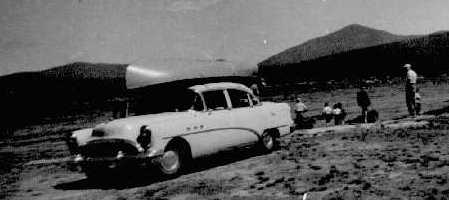 PennYan & 1954 Buick - Mt. Blue - 1957
When we transferred to Florida we quickly found the cartopper not enough boat for even the "inshore" waters, so we traded it for a 16 ft MFG runabout. Much more fit for our inshore fishing, and with a 40 hp Evinrude, more power than we had need for, we kept this through the late '60's, and Rick even trailered it up to SC for a camping trip with his friends from The Citadel one summer after school let out.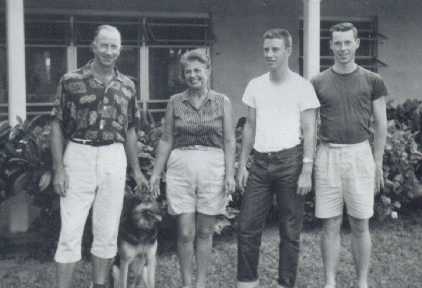 The Langdons - Dad, Lobo, Mom, Rick, & Jim - Palm Beach Shores, FL - July 1963
Then, being very close to the inlet in Palm Beach Shores, with easy access to the ocean, keeping the boat in the Sailfish Marina downstreet from our home, and seeing all the fish that the Marina's Charter Boats unloaded daily, we began to have thoughts about Ocean fishing too. We ventured "outside" a few times, on nice calm days, caught some fish -never far from the inlet- but realized that our 16 ft boat was not adequate for Ocean duty. Even on calm days it was rough enough to make it dicey on the way back thru the inlet, especially on an outgoing tide.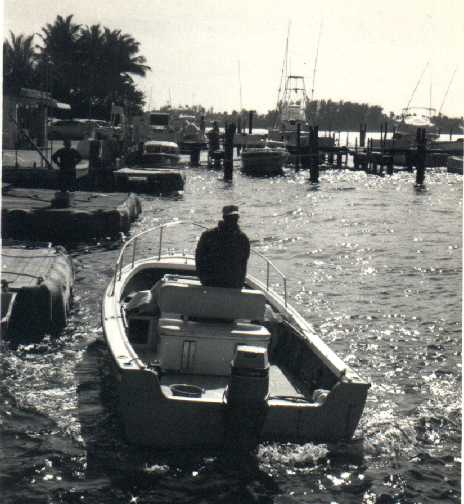 One more time - traded the fine MFG for a 19 1/2 ft Aquasport, 8ft beam, new design 55hp Evinrude, built-in live bait well, self bailing cockpit, a fishing machine. We'd gotten to know several of the Charter boat Captains and they told us - "any day we go out, you can go out in that boat" -- "if its turns rough, just wait outside the inlet and come in with us" --- a reassuring endorsement.
Evinrude had put on a heavy ad program, extolling that new model as a revolutionary workhorse, utilizing a larger than usual prop, geared to handle heavy loads, and fast enough to satisfy any normal use. And, we found it to live up to all the ballyhoo - it really moved that boat, faster than we were ready to travel. Now we could fish inside or outside, installed 15ft telescoping outriggers, and rod holders in the wide gunwales, and we were ready to compete with those Charter boats for BIG fish. Kept a small 3 hp Evinrude in the boat for emergency use.
Did have some electrical problems - twice - fortunately while we were "inside" fishing, and they were fixed under warranty. The second time it was near the end of the 2yr warranty period - the Dealer said Evinrude had corrected the problem, upgraded the engine to 60 hp - and it might be a good time to change motors and avoid more possible trouble - out of warranty. We did that - after he repaired the old motor under warranty.
A few months later, Bert Hunt, who'd worked for me in E.Htfd., brought his 10 yr old son down to Fla on vacation. I took them out for a Kingfishing excursion and we trolled along for a while, with no action, gradually moving North with the Gulfstream flow. And, 4 or 5 miles offshore, far North of the Inlet, the nice new motor quit cold turkey.
Not to worry, the 3hp "folding" motor is on board - in its handy case. So nothing to do but mount it on the transom and start home. First thing, head for shore to get out of the Gulfstream's northern flow, and creep back close to shore. And creep we did, took several hours to make the ordinarily half hour easy run to the inlet. Luckily the tide was coming in when we got there, that 3hp motor would not have pushed us thru on an outgoing tide. Kept the lines out on the way back, and did catch some Mackerel -and one Barracuda- enough to make it a successful trip for the 10 yr old.
The next thing to do was get a 9 1/2 horse Johnson and mount it on the transom as a spare motor. No more of those hours long creeping journeys back home.Me, I was unhappy with the "New - Improved" Evinrude. Had the Dealer fix it, under warranty, and then traded it in for an 80hp Mercury.
That ran fine till we moved to Jensen Beach, found the local inlet to be very dangerous, and changed to an 18ft Herreschoff Catboat - selling our beloved fishing machine when we could not keep both boats in the Condo Marina.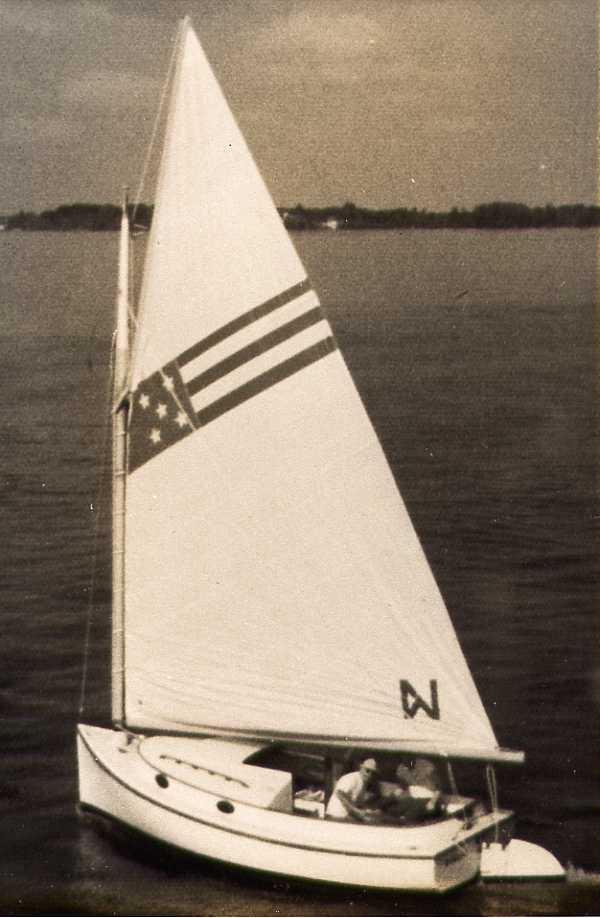 Had a lot of pleasure on the "Fat Cat" sailing on the broad St Lucie River outside of our Condo. Most enjoyable for Grace was evening sails. We'd go out after supper, often invite some of the neighbors, and sail on the gentle evening breeze, returning up the creek to our marina slip in the dark.. Went on overnite sailing cruises with a Stuart sailing club - with several boats "rafting together" on the largest boat for a happy hour singalong and each eating on their own boat. The club held races on the river but our Catboat was not competitive with the larger sloop rigged boats -- except on a downwind run, where the oversized 265 sq ft gaff-rigged sail really moved that broad beamed "Fat Cat".
Moored the "cat" out front of our house when we moved from the Condo to our home on Indian River Drive. Had a 12ft aluminum boat onshore to get back and forth. When being out in the sun started to bother Grace's eyes, we sold the "Cat" and picked up an 18 ft aluminum Star craft cabin cruiser. This let us ride sheltered under the top, protected from the sun, and its 80hp Merc. was more engine than we needed. Kept that on a trailer, out of sight behind the garage.
The Starcraft sat unused behind the garage for a couple of years and I finally put an ad in the paper and sold it.
We did have many good times with those boats.



This page created with Netscape Navigator Gold
This page has been visited

times.