Dad's Memories

- 03 September 98

- 03 September 98
Fishing - with friends (early '70's)
I regarded my small Dept as "family", and each individual as a "friend" as well as an employee. After all, each one had been "handpicked" for his ability, work ethic, and attitude. So when the occasion arose, I welcomed the opportunity to invite them to join us on a fishing excursion.
Especially close were Wally Pugh, Don Adams, and Carl Eilers - three top flite shop mechanics who'd been sent up to Hartford for a three week indoctrination in how Labor Standards were established. Each had been assigned to my group for a week, and I'd taken care to have each work with my best "teachers" out in the shop, spent time showing how I estimated individual operational time on new parts, prior to release of materials to the shop. I'd also had all three, together, to our house in Glastonbury for lunch (an extended lunch time, with the bosses OK) where Grace made them feel welcome and at home. I often wondered if their reports on the trip to Connecticut, had any bearing on my being chosen for the move to Florida.
Wally's dad, George, somewhere in his 70's, an ex Pennsylvania coal miner, visited Wally for a week. Right then, Spanish Mackeral were running full bore, so I invited Wally to bring George and we'd go after Mackeral. It developed on Saturday that George had never fished, nor ever been out on a boat -- but he was eager for a new experience. I had two dozen live shrimp, but first went to a favorite spot to catch Ladyfish, not good for eating, but an excellent cut bait - and some kind of fighters - jumping and splashing all the time. We caught one to keep, threw several back. George was beside himself at this sport but we were out for Mackeral, and went on to the selected Mackeral location.
Lots of boats anchored there, and plenty of action evident. Found a clear spot and dropped anchor -- in "boat city". The live shrimp proved to be the "soup de jour" and we quickly had Mackeral coming in "hand over fist". Grace & I just sat and enjoyed the spectacle, on our boat and the boats nearby. Ran out of shrimp, even before we started to throw 'em back, and shifted to the cut Ladyfish. And them hungry Macks gobbled the cut bait too, tho not as voraciously as on the shrimp.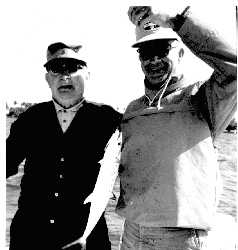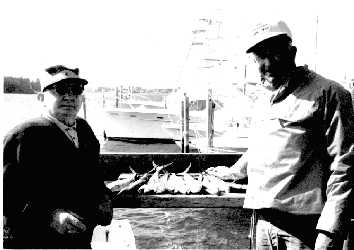 George Pugh & Dad - January 1970 / "Bill's Marina" - Palm Beach Shores, Florida
We called a halt for lunch. Decided we'd had our full measure of Mackeral fishing, took a leisurely tour -sightseeing- and returned to the marina. George tried his hand at filetting with success, had a ball throwing the carcasses to the ever present Pelicans and we called it a complete day. After that, Wally said that George came down from Pa. as much to fish with us as to see him, and we too looked forward to his annual visits.
Don Adams had two sons - about 8 & 10 yrs old - he'd take them occasionally out on a drift boat for fishing. When the Bluefish were running strong "inside" I invited Don to bring his boys and we'd give them a Bluefish extravaganza. Once more we headed first for the Ladyfish hangout. Fresh cut Ladyfish is the #1 bait for Blues. Let the boys have fun on the lady fish, kept three for bait, and off to Bluefish hideout.
Blues are good fighters and these schoolfish were all in the 3 or 4 lb range, big enough to give the boys a workout. After we had six or eight in the fishbox, I said OK lets throw any more back -- and this did not sit well with the boys, who wanted to catch a zillion of them Bluefish. OK catch 'em but we'll throw 'em back. Ran out of Ladyfish bait, had our lunch, drove about a bit and home to the Marina. Showed the boys how to fillet Blues and Don had them fillet the rest - to take home to Mama. Good experience for them, good days fun for us.
Don regrettably died, very young, shortly after this -- Heart attack -- missed his presence in the department.



This page created with Netscape Navigator Gold
This page has been visited
times.