--
Fellow Travelers - if you arrived here from our VT website
Please close this window when you've finished to return to our
VT - Travels Page
If not, please check VT out ... I've found it to be an ideal location for hosting "our" online travelogues - Rick
Rick's Images of Europe
Day 2 - Friday, 28 February 1997
Brussels, Belgium

- 24 April 97

- 26May 97

Our guide explains the history of Brussels "Le Grande Place / Grote markt" ------------------------ (I forgot to reset the date feature on my camera)
File size = 49.8KbKb (Revised to 10.7Kb)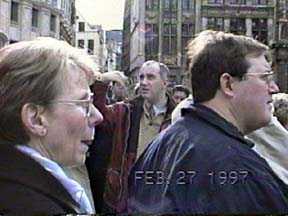 -SNAPPY IMAGE

The Galeries Royales St. Hubert - near Le Grand Place
File Size = 53.3Kb (Revised to 11.0Kb)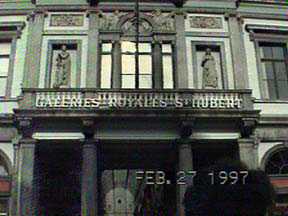 - SNAPPY IMAGE

"The Atomium" in the Parc des Expositions (site of the 1958 Worlds Fair)
File size = 46.9Kb (Revised to 5.3Kb)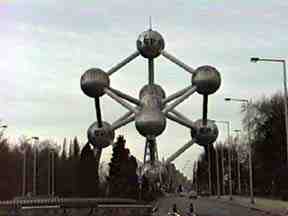 - SNAPPY IMAGE

Street cars /Trams on the street in front of the atomium. Brusssels operates one of only a few street cars systems remaining in the world. The combination of buses, trams/street cars, and subways operated by the Brussels Metro System makes getting around "easy".
File size = 47Kb (Revised to 7.8Kb)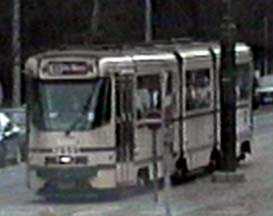 -SNAPPY IMAGE

Belgian Lace collar display at the louise VERSCHUEREN Lace Manufactory
File size = 54.6Kb (Revised to 13.5Kb)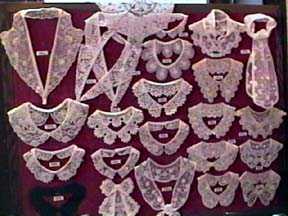 -SNAPPY IMAGE

BACK TO DIARY INDEX | PHOTO INDEX | HOME


This page created with Netscape Navigator Gold
This page has been visited

times since adding a counter 1 July 97.