--
Fellow Travelers - if you arrived here from our VT website
Please close this window when you've finished to return to our
VT - Travels Page
If not, please check VT out ... I've found it to be an ideal location for hosting "our" online travelogues - Rick
Rick's Images of Europe
Day 5 - Monday, 03 March 1997
Brugge, Belgium

- 22 April 97

- 26 May 97

Brugge Square. This photo was taken to "match", as closely as possible, the image on the jigsaw puzzle that Lin found at our local Wal-Mart and put together prior to our trip to Europe.
File size = 48.3Kb (Revised to 10.5Kb)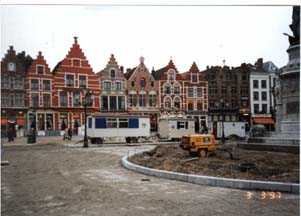 Paul and his students after our lunch meeting at the school

File Size = 52.0Kb (Revised to 11.0Kb)

Sint-Lodewijkscollege Coat of Arms (SNAPPY IMAGE)

File Size = 36.0Kb (Revised to 2.1Kb)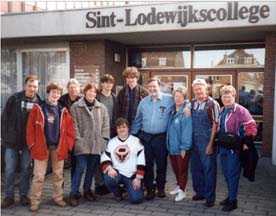 LEFT to RIGHT: Peter "MAC" De Berdt, Tine Willems, Freike Segers, Rebecca Devriese, Pieterjan Naeyoert, Pieter Jan Leroy, Rick Langdon, Linda Langdon, "Bo" Austin, Barbara Austin, kneeling - Paul De Meyer (Check out the Birmingham Bulls Hockey Jersey!)
(Click here for a full size image - 300 dpi, 202.0Kb Revised to 147.0Kb)

Minnewater Park on our walking tour with Carl
File size = 48.8Kb (Revised to 10.8Kb)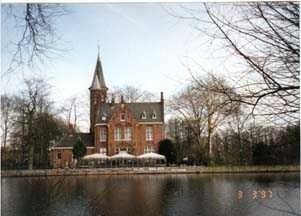 The Beguinage, founded in 1245. Currently occupied by the Sisters of the St. Benedict Order, on our walking tour with Carl. A favorite "restful place" of Sir Winston Churchill while visiting Brugge.
File size = 49.9Kb (Revised to 12.0Kb)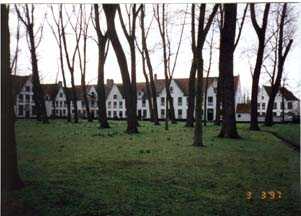 Carl explains to "Bo" & Barbara the history of one of Brugge's "Bath Streets"
File size = 51.2Kb (Revised to 11.4Kb)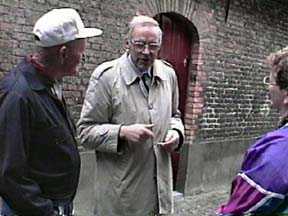 -SNAPPY IMAGE

Paul & Rick visit Brugge's oldest Pub to cap off a wonderful visit
File size = 46.0Kb (Revised to 8.6Kb)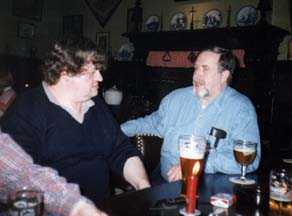 BACK TO DIARY INDEX | PHOTO INDEX | HOME


This page created with Netscape Navigator Gold
This page has been visited

times since adding a counter 1 July 97.