Rick's "Trip" to Korea
Recollections & Reflections
"FREEDOM IS NOT FREE"

- 07 Sept 2001

- 12 January 2002
--
--
Fellow Travelers - if you arrived here from our VT web site
Please close this window when you've finished to return to our
VT - Travels Page
If not, please check VT out ... I've found it to be an ideal location for hosting "our" online travelogues - Rick
In Remembrance
It is the soldier, not the reporter,
who has given us the freedom of the press.
It is the soldier, not the poet,
who has given us the freedom of speech.
It is the soldier, not the campus organizer,
who has given us the freedom to demonstrate.
It is the soldier,
who salutes the flag,
and whose coffin is draped by the flag,
who allows the protester to burn the flag.
- The Rev. Denis Edward O'Brian, USMC
MAP of the area of Korea Rick "visited"


2nd Engineer Battalion
Officers Dress Insignia


.
.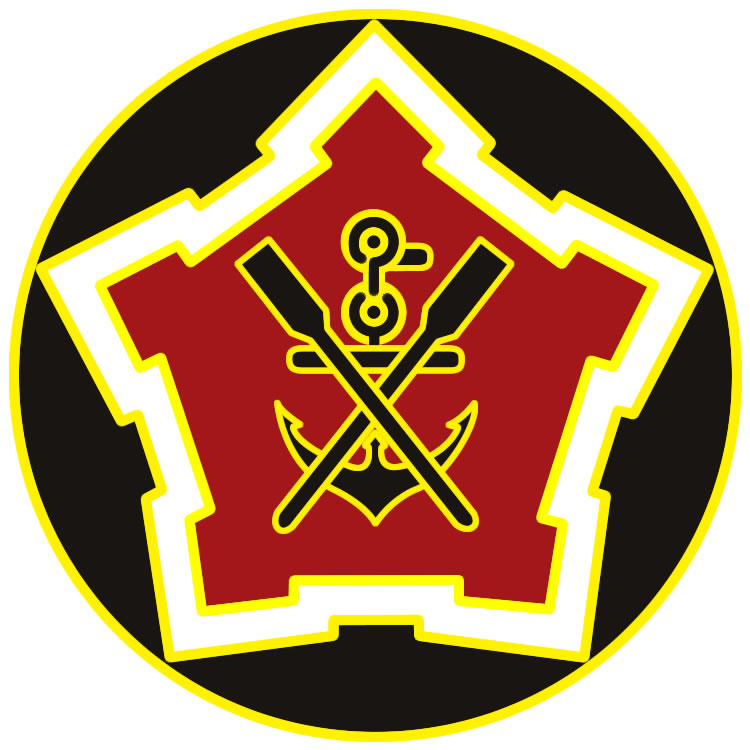 Shoulder Patch Rick's "Home" ... 1971 - 72 Unit Crest
2nd Infantry Division 2nd Engineer Battalion

(Indian head Division)
"Second to None"

CO - Capt James L. McAllister
XO - 1Lt Richard E. Langdon
1Sgt - SFC Malcom L. Stewart

--------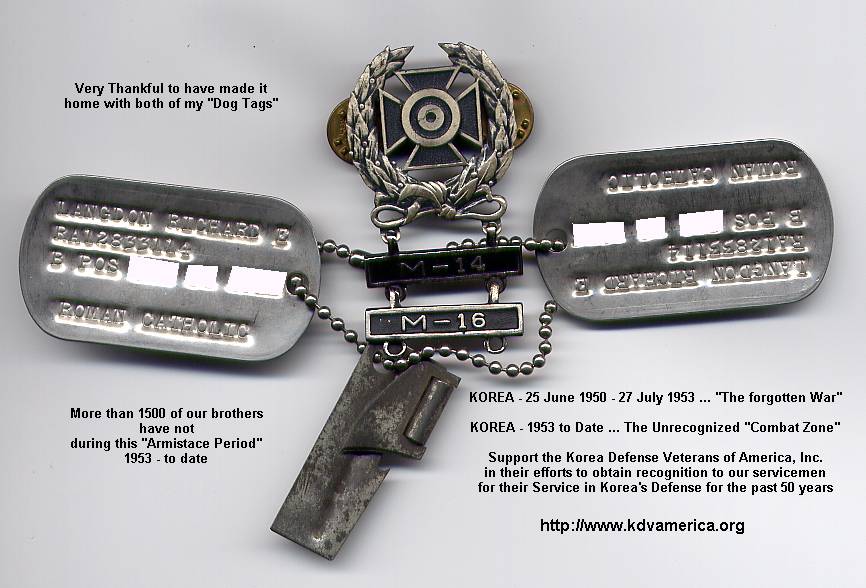 NOTE: This page, with the exception of the images above, is mostly text and includes a "brief" explanation of how I came to be in Korea in 1971/72, some of my memories from this tour, an assortment of links about Korea, the Korean War and the continuing post armistice conflict, and my reflections on this "trip" . Some of the links are within my site(s) and some are external, to information and / or organizations "found" while researching and refreshing my memory about South Korea. Initially, and hopefully still, this "research" took the form of contemplating a possible return trip at some time in the future. From there, like it seems most internet searching goes, it branched out into a wide variety of "Korea" based information.
That said - What led me to be in this place (South Korea) at this time (1971/72)? The short answer would be "The US Army". However, not being one known for "short answers" ... we'll move on to a little longer version.
---
How I came to be in Korea in 1971/72
My Tour in Korea
Links
Reflections
Attack on America - 9/11/2001
Saber Rattling (still) from North Korea, "The DPRK" - 2002/2003
---
THE KOREAN WAR - THE ARMISTICE AGREEMENT
1951-1953
THE CONTINUING U.N. / U.S. COMMITMENT TO THE DEFENSE OF SOUTH KOREA
1953 - To TODAY
or
HOW I CAME TO BE IN KOREA IN 1971/72
Virtually all of the U.S./Korea story takes place within my lifetime, and most of it within my memory.
With respect to all those who served, fought, died, or were forever scared by memories of the Korean War - "The forgotten War", fought by forgotten soldiers - and all those who have written vast amounts about it. My recap of this conflict, as it relates to "why I was here" in 1971/72 will be relatively brief.
"Thanks" to Russia's joining the US (for a period of 8 days at the end of WW II) in our fight against Japanese aggression, Korea (which had been occupied by Japan for about the previous 50 years) was divided at the 38th parallel. Russia initially administered what is now known as North Korea and the US initially administered what is now known as South Korea .... much like the division of Germany into East and West Germany. Like Germany, each zone, of the now divided nation of Korea, followed widely divergent paths of development following WW II, North Korea - Eastern (Communist) inspired and South Korea - Western (US) inspired. During the period 25 June 1950 - 27 July 1953 a United Nations coalition of forces, led by the United States, fought an extremely bloody "police action" (WAR) to repel the invasion of South Korea by the forces of North Korea Initially this action forced the ROK & UN forces into a defensive position around the extreme southern port city of Pusan .... followed by a push back to the North, past the 38th parallel, almost to the Korea/Chinese border at the Yalu River ... followed again by a counterattack from the North Koreans, this time joined by forces from China and a push back to the South to something of a "Stalemate" line of positions along roughly what is now the Korean Military Demarcation Line (MDL). Most of this action and movement took place during the first 17 months of "the war". In late November 1951 armistice talks commenced and was followed by 20 months of "negotiations", posturing, and stalemate at Panmunjon accompanied by probes, skirmishes, and continuingly mounting casualties along the battle front.
The "fighting" was concluded by an armistice agreement (not a peace treaty or surrender document) which was accepted and signed on behalf of the United Nation Forces - Korea by Gen. Mark Wayne Clark, on 27 July 1953. Gen. Clark would later become President of The Citadel, The Military College of South Carolina, and was still there when I entered The Citadel in the Fall of 1963.
This agreement established "The Military Demarcation Line" as the new boundary between North and South Korea and roughly represented the positions of forces at the time. It stretches approximately 151 miles, in a somewhat "S" shaped line, from the mouth of the Han Gang (river) on the West coast (just South of the 38th Parallel) Northeastward across the Korean Peninsula. In addition, the provisions of this armistice agreement buffered this MDL with a 2 km wide "Demilitarized Zone" of separation, "The Demilitarized Zone" (DMZ), to the North and to the South of the MDL between the opposing forces. The "DMZ", now that's a misnomer if there every was one! US and ROK (Republic of Korea - South Korea) forces have been deployed in a defensive pattern, standing "eyeball to eyeball" with the forces of the DPRK (Democratic Peoples Republic of Korea- North Korea), forward deployed in an offensive pattern, along "The DMZ" to this day. This is, almost certainly, the MOST "Militarized Zone" of conflict and confrontation in the world for the past 50 years. The fighting and dying have not stopped. Since 1953, 40,000+ "incidents" of aggression and provocation have been initiated by the forces of North Korea which have resulted in an additional 1500+ U.S. troops Killed in Action ... in a "war that was never a war" under an armistice agreement which has, only rarely, been "peaceful".
My dad was a graduate from The New York Military Academy and followed that with service in the 101st Cavalry, NYNG. My brother entered service with the Navy following his graduation from RPI and completion of Naval OCS. Thus it was, having something of a history and heritage of service, that it became "my time" to serve following graduation from The Citadel in 1968. (I ended up following a different course than I'd intended on entering The Citadel, that course would have taken me to the Air Force - as a pilot - commissioned through the Air Force ROTC program at The Citadel.) As things worked out, on taking my flight physical during my Junior year .... the Air Force found a slight, and to me unknown, vision defect and disqualified me for all categories of service with the Air Force! Needless to say, that came as a shock, and was appealed, to be at least accepted into Air Force service as a Civil Engineer. This appeal was ultimately turned down during my Senior year ... and at that time, it was too late to switch branches (of ROTC) and get under contract for a Commission in another branch prior to graduation.
So, I took the longer route. Choice was better than chance at this time in the U.S. ... read being DRAFTED into service and sent to Vietnam as a "grunt"... after all, I had been reclassified "1-A" following graduation ... and I felt sure that even if the Air Force wouldn't have me, I was sure the Army would! I enlisted in the Army - pre qualified for Army Engineer OCS ... and was off in late Summer 1968 to Basic Infantry Training at Ft. Dix, NJ, Advanced Individual Training (Combat Engineer) at Ft. Leonard Wood, MO and Engineer OCS at Ft. Belvoir, VA. All of this took about 13 months, and to a great degree was a "repeat" of what I'd gone through at The Citadel. But as the saying goes "you can't fight city hall" ... and you can't "fight" the way the Army does things. However, you can "join" them and do things "the Army way"... which is what I did when it came time to fill out my assignment preference sheets, or what were commonly known as "Dream Sheets".
When completing my Dream Sheet prior to graduation from OCS, Vietnam was an "Hot Zone" and I knew, given my "druthers", I'd "druther" not be posted there. So, I selected as my first posting a very specific assignment - The US Army Corps of Engineers (Civil Works), Jacksonville District, Clewiston Florida Area Office. Getting this assignment surprised me (and most everyone else at OCS) ... all I and "they" could figure is that who ever processed the assignments must have thought that "I either knew something or someone" and that they'd better give me my requested posting .... and who was I to "complain" :-) So, following commissioning 12 Sept 1969 (and reclassification from an enlisted soldier with a Combat Engineer MOS to a Commissioned Engineer Officer with a Construction Engineer MOS)... that's where I headed, essentially "back home" ... as the only active duty soldier - stationed - in Clewiston, Florida.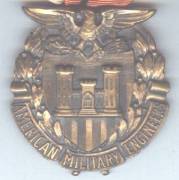 During this first two year assignment, my "job" was first as an assistant to the Area Engineer following the full scope of construction projects for the Central and South Florida Flood Control District - canals, levees, pump stations, and other water control structures of various kinds. (This following - about a 2 month TDY assignment to Bay St. Louis, MS to join in the clean-up operations following Hurricane Camille.) During the second year, I was assigned as Project Engineer for the construction of Pump Station #4 - West of Clewiston, in the Herbert Hoover Dike which surrounds Lake Okeechobee. This construction had progressed from lay out through excavation & pile driving, to foundation concrete work prior to this initial two year posting being completed.

Also, during this second year in Clewiston, I met and married Lin.

When it came time to fill out another "Dream Sheet", some time in May or June '71, I again played by the Army rules. The Vietnam "conflict" was still a "HOT ZONE", and still not a place I wanted to be posted for my next assignment. The life expectancy of a junior officer was not that great. As a matter of fact, Lt's and Capt's make up roughly 10% of those remembered on the Vietnam Memorial Wall. When you figure that company grade officers only make up about 2% of the manning of a Company ... you can understand why I didn't "like the odds". Knowing that Korea was also still considered "a hot zone" and an unaccompanied / hardship tour as well, I made Korea the first choice for my next posting ... and again ... got it. Other things were also taking place at about this time - reductions in forces were starting to take place and on 28 July 71 a message came down from DA authorizing the submission of requests for early release. I submitted mine. However, it was not processed prior to time to post off ..... so it was now ON TO KOREA for me. (The early release came through while I was there.)

That's the long version of how I came to be in Korea, for a 13 month "tour" and stayed for 7 months ... from Sept 1971 to March 1972.

I arrived in Korea at Kimpo Airfield - Seoul following the long flight(s) from Miami-Chicago-Portland-Seattle (overnight)-Ankorage-Toyko- Seoul. Then, almost immediately, took a bus ride to the 2nd Div Replacement Company at Camp Casey near Tong-du-Chon for in-processing. I was picked up by jeep (sent over by my new CO) and taken from Camp Casey to Camp Edwards (West) where the officers from B Company, 2nd Engineer Battallion (Combat), 2nd Infantry Division were billeted. Then on to my new unit at Camp Edwards (East). This was almost as long a "day" as send off / arrival / inprocessing at Basic Training! Went down to Camp Howze the next morning to report-in at 2nd Engineer Bn HQ.

Different from some other accounts which I've read about peoples tours of duty in Korea, I arrived in country and went straight to work. Unknown to me at the time (I did not receive any "in country briefing" or orientation on the current situation) the U.S., under what came to be known as "The Nixon Doctrine" had just unilaterally withdrawn the 7th Infantry Division from service in Korea - leaving only the 2nd Infantry Division as a forward deployed U.S. force on the western front. Also, the U.S.'s "most forward" deployment, along the DMZ, had been reduced to a narrow strip (1 or 2 km wide) adjacent to, and flanking the access road to the Joint Security Area (JSA), near what was previously the village of Panmunjon.

Sometimes, "strange things" occur in Army assignments and just maybe "they" get things right. I like to believe, in looking back now, that someone "got it right" in my assignment to B Co 2nd Engr Bn (Combat) 2nd Inf Div. - the only "Construction Engineer Officer" in a Combat Engineer Battalion. My first assignment, as a platoon leader (and Company Executive Officer) here was construction of two new reinforced concrete Observation Posts (OP's or "Blockhouses") at the DMZ fence and flanking the access road to the JSA - in the newly reduced - U.S. controlled portion of the "Zone", and the construction of a new Guard Post inside the JSA at the end of "The Bridge of No Return" on the "South" side of the "MDL". Things had been relatively quiet along the "Z" for the 2 years or so prior to my arrival and though not exactly "peaceful" this work was accomplished quickly and without incident ... although not without a fair share of "pucker".

I have since become acutely aware of the situation which existed in Korea at, and immediately prior to, my time of service in Korea ... the "provocation's", incidents, attacks, and ambushes which were occurring over the years prior to my arrival. And, the reason for the relatively "quiet period" in the year or so immediately prior to my arrival. The North Koreas were constructing invasion tunnels into South Korea ... while the US was increasingly involved in Vietnam ... and were not yet "ready" to initiate a "provocation" which would again lead them to invasion.

This was followed by an assignment to construct a new "relocatable barracks building" at Camp Rice. The Battalion had 6 of these to build at three Camps - Rice, Mackenzie, and Giant (I think). These were assigned - one each to 2 platoons from each of 3 companies. With the experience that I, and my platoon, just had with concrete construction in the "Z", it turned out that we had our first slab completed prior to any ot the others being even started. This led to some realignment of how they were to be built and my platoon ended up doing the four slabs at Camps Rice and Mackenzie "specializing" in the concrete works and leaving the other platoons to do the building erection. This work was done through the Winter of 71/72 which also made things interesting. Fortunately that winter was mild - by Korean standards. Pretty cold for a fella from South Florida though, deployed to a "tactical" area (which the 2nd Inf. Division area was at that time) ... you just don't know how cold is is traveling around in an open jeep through the dead of winter, even a "mild" winter, until you experience it. No covers were allowed - it's a tactical area of operation you know - we have to be prepared to dismount and fight at any time.

This concrete construction work was supplemented with plenty of other "routine" maintenance work and other assignments ... Demolition Officer for Freedom Bridge, a Mess hall expansion at Camp Rice, road patrols and repairs, drainage works, etc. and for the benefit of my B Company troops stationed at Camp Edwards (East), a new rock and mortar bulletin board (built by my US troops :-) and, we started work on a new reinforced concrete and concrete block latrine/shower building and septic tank to get them out of the cold steel Quonset Hut latrine. To say that my time spent in Korea was busy .... would be an understatement ... but, being busy did make the time fly. In late February or early March, I was notified that my request for early release had been approved and I was going home! Instantly, I became a "double digit midget" ... a "short timer" ... and the countdown clock commenced ticking.

All in all, my time spent in Korea was gratifying and left me with many good memories. I could not have asked for a better group of people to work with. My Troops were "the best", my KATUSA's (Korean Augmentation Troops assigned to the U.S. Army) were "the best" and my KSC's (Korean Service Corps - civilian craftsmen and laborers assigned to supplement our troops) were also "the best". I was fortunate enough to be asked to supply some guidance and direction ... but they got the work done. I'd like to believe that they were as proud of what we accomplished in those 7 months as I was.

Not quite all was "work" though. One evening, early in my tour, we, the CO's and XO's from B Co 2nd Engrs and C Co 702nd Maint (across the MSR at Camp Edwards (West), were invited to dinner with the leaders of the nearby village of Kumchon - as a "thank you" for some drainage and road works that we'd done and as a gesture of good will from the local population. This was definitely another highlight from this trip!

Also, in the evenings through the winter ... it was basketball season back home, and in Korea too. The company put together a team and joined in a 2nd Division recreational league. At one game, prior to Christmas of '71, we were playing against a team from the 2nd Aviation Brigade and who was I to come across but my bunkmate from OCS - 1 Lt Jim Briske - who had gone on from Engineer OCS to train at Ft. Rucker Alabama, become a helicopter pilot, and was in Korea flying "Hueys". Now, in the 2nd Division area, remember it was a hardship / unaccompanied tour zone, and there was little in the way of Christmas Spirit developing amongst our troops, and for that matter, not much among the officer corps either. Jim and I decided to "do something" about that situation and plotted out a pretext for a flight of two hueys down to the Yongson Garrison in Seoul (which was not a hardship tour area) and brought back as many Christmas Trees and other decorations as we could cram into them. Needless to say, this brightened things, and spirits, up ... back in our Camps "Up North".

Finally, in early March, my "Turtle" (replacement) arrived. I gave him a bit of a different "welcome" and orientation to Korea than I had received and took him down to Seoul for his first weekend "in country"... this was also my first and only weekend while in Korea that I spent away from Camp Edwards. Life was sure different in Seoul (about 40 miles South of the DMZ, and about 25 miles South of Camp Edwards) than it was just a short distance North in the 2nd Division Area. Seoul was developing rapidly into a large cosmopolitan city!

Then, it was onto the big iron bird, back to the states, discharged from the Army on 22 March 72, on to Miami, and back to Lin and Sam - to look forward to the "rest of my life" as a civilian ... with good memories of my time in service and my "tour" in Korea.

An assortment of related Links
(A "few" selected as among the best from "HUNDREDS" visited and collected in my Korea research)

One of the first web sites that I came upon in a search for "Munsan" (the town approximately 5 Miles north of Camp Edwards, about half way to Freedom Bridge) was the 19th Tactical Support Command web site. This lists the current camps, their general locations, and many (most? all?) of their housed units - Including Camp Edwards (West) - my "home" in Korea. (My unit, B Co 2nd Engrs was located at Edwards (East) but the Officer Quarters were at Edwards (West).
These camps are identified and links are included in my Korea Units and Camps - 2001 Page.

I then came upon John Maclean's Cavalry Country - "Looking for Maps Page". John's site really inspired me to make contact with him, and some others as well, furnish a few copies of my map, led to the development of my Korea Map Page and the rest of this "Korea Tour" section of my web site - My "trip" to Korea and photos pages. I'd also like to recognize here and pass on a major "Thank You" to CSM Jim Sherrill, who I "met" through his "Reporting In" (also seeking maps and camp identification) in John Maclean's sign in book at "Cavalry Country". Jim was stationed in Korea at the time, and has been a major contributor to the identification and location of many of our old "Camps". I understand he is currently researching for a planned book about "The DMZ War" and the ongoing commitment to the defense of South Korea - post 1953.

1Lt Ken Leighty (Korea 67/68) has put together two nice web sites, one for his memories of service in Korea in 1967 and one that he's developing as a place for memories and contributions from other Vets to remember their Tour of Duty in Korea. Ken has also been a significant contributor to the identification of our "Camps" and the units located there during this 1967/68 time period.

One of the most chilling sites that I came across in my "Munsan" search was a page at the VFW Post 7591 web site from Madison, Wisconsin - concerning "The Ax Murders - Incident" in the JSA on 18 August 1976, and the resultant "Operation Paul Bunyan" on 21 August 1976. These stories literally made me break out in a cold sweat being right at locations where I worked - not "that long" previously. The sweat broke out "double time" when I read that the Company of Engineers that did the "tree trimming" (and was backed up by the full force of the USFK ... and the US ) in Operation Paul Bunyan was B Co. 2nd Engr Bn - MY Company!!. I then came to realize that this "Incident" came ever so close to triggering another invasion of South Korea by the North, and a resumption of the Korean War - they were ready! Be sure to read MG John K. Singlaub's account (and background info!!) about "Operation Paul Bunyan" from Chapter 12 of his book "Hazardous Duty". The background information in this account made me realize "why" things were comparatively quiet while I was stationed in Korea. NORTH KOREA WAS MAKING PREPARATIONS FOR AN INVASION ... then just waiting for the right time and the right "provocation" (excuse) to make their move!!!! The other accounts and diaries of this operation, linked from the first VFW Post link above are also well worth reading and offer a view of the Operation from the soldiers perspective - "Excerpts from a Tour Diary" by SP4 (1976) Mike Bilbo and "Get the Flags Up" by PFC (1976) Wayne Johnson (who also provided many of the photos used to illustrate both the VFW's page and Mike Bilbo's Diary Excerpts).

One final link worth reading concerning Operation Paul Bunyan comes from the Federation of Allied Scientists - Military Analysis Network in which the unilateral US Troop withdrawal ( in 1971) and reorganization (under "The Nixon Doctrine" in which the 7th Inf Div was withdrawn from Korea) is cited as a major contributing factor in North Korea's build-up and positioning of forces forward into attack / invasion positions. I also believe that the US's "homeland aversion" to our involvement in Vietnam leading to our withdrawal from (and abandonment of) Vietnam and Cambodia in April of 1975 emboldened North Korea to think that this (August 1976) was "the right time" to initiate the "provocation" which would lead to their invasion of South Korea - again. The North Koreans felt that the US would be in no position, or have no desire, to re-engage our forces in Korea.

I must admit, although I do, and have, "kept up" with the situation in Korea - at least to some degree - I was not aware of this "incident" and Operation. Maybe because it was my son's 1st birthday and I was busy with my own work.

The KDVA (Korean Defense Veterans of America, Inc.) has an excellent web site with lots of links to Korean Defense, "Incident Reports", and other related information. The primary mission of this group though, is the fight for recognition for the thousands and thousands of US servicemen and women who have been posted to the defense of South Korea since 1954 (my "guesstimate" 1.5 million +). Recognition in the form of a Campaign Medal & Ribbon for service in Korea post 1954 to the Troops who have definitely been "put in harms way", received no pay supplement for their "Hazardous Duty Service", and have nothing to show for this service, other than a notation in their "201 File", "maybe" the issue of the AFEM (a watered down and virtually meaningless "Expeditionary Force" award), and their memories. Medals are not much, but THIS RECOGNITION IS LONG OVERDUE. I support the effort 100% and have joined the fight.

The award of a KOREAN DEFENSE SERVICE MEDAL has been ordered, and included in the FY 2003 Defense Appropriations.

Kimsoft.com has published A rather disturbing article "The US-DPRK Relations at the Close of the 20th Century and the Prospect for United Korea at the Dawn of the 21st Century" which primarily discusses the North Korean - Nuclear "trump card", and argues that yes - it does exist. I've followed "Kimsoft" back to it's root address as the "Korea Web Weekly" and it's banner claim states that it's "An independent, non-partisan, FREE web on all things Korean: Her history, culture, economy, politics and military - since 1995" It's editor, Young Sik Kim, is a native of North Korea who fled south when the Korean War broke out and worked as a language liaison agent for the US CIA and the US Army Security Agency from 1952 to 1955. He is also editor of "kim-spy: Intelligence and CounterIntelligence" There is an absolute wealth of information "Korean" and other here.

Here is another "interesting" article - published by the "National Democratic Front of South Korea", in which they published their 27 July 1985, program and goals. You don't have to stretch your imagination very far to understand that this group is the "South Korean - Opposition Party" ... organized and led by North Korean infiltrators and agents in South Korea.

- VERY DISTURBING -
(SCROLL DOWN ABOUT HALF WAY - TO GET TO THE ENGLISH VERSION)

This link leads to a lengthy Robert A. Manning Paper from the Institute for Corean-American Studies, Inc titled
"The U.S. Agenda in Asia: Korean Peninsula Issues and Competing Priorities" which is an excellent, if time consuming, read concerning the developing Korean Reunification in the era following " the historic June 2000 North-South summit". It's an excellent analysis of the current (2001) situation.

Numerous times during my searching, I came across pages linked to (or from) the military's "Korean War - 50th Anniversary Home Page". There is an absolute wealth of information here! It's unfortunate, but necessary, that we have to "celebrate" 50 years+ of Armed Conflict - holding the line at Freedom's Frontier in Korea.

The opposing view (China) - 50th Anniversary of the War to Resist US Aggression and Aid Korea

This from the "KoreaScope Organization" (I haven't really come to a conclusion concerning the "leaning" of this group. However, my initial impression is that it's North Korean based.)
"Understanding of the Engagement Policy toward North Korea"
"Seoul's Fundamental Concept of Unification"
"North Korea's Fundamental Concept Regarding Unification" (Unification under Communism)
"Outcome of Engagement Policy toward North Korea "
Root site (English version) - Koreascope.org

The Unites States Forces Korea ( UNC, CFC, and USFK) - Korean War History Web Site

Biography of General Mark Wayne Clark
(I have one correcting note - near the bottom - Gen Clark retired as President of The Citadel in 1965)
"Clark relinquished his Far East command October 7, 1953, and retired from the service at the end of that
month. He accepted the presidency of The Citadel in Charleston, S.C., a post he held until his retirement in
1955, when he was named president emeritus."

The Center for Military History has published a number of "EBOOKS" on the Korean War, GOOD READING !
some of them are:
EBOOK - UNITED STATES ARMY IN THE KOREAN WAR: EBB AND FLOW, NOVEMBER 1950-JULY 1951
EBOOK - SOUTH TO THE NAKTONG - NORTH TO THE YALU
EBOOK - UNITED STATES ARMY IN THE KOREAN WAR: TRUCE TENT AND FIGHTING FRONT
EBOOK - Combat Actions In Korea
EBOOK - Combat Support in Korea

And finally, a few links to the 2nd Engineer (Combat) Battalion
The 2nd Engineer Combat Battalion Association
Awards and Decorations
2nd Engineer (Combat) Battalion - 2nd Infantry Division - Korean War Project

U.S. Army Corps of Engineers Office of History
USACE - Office of History, The 2d Engineer Combat Battalion Paid Heavy Price for being Rear Guard at Kunu-Ri

And, some more Korean War history - from the perspective of the 2nd Infantry Division

As I have said, my personal memories of Korea are memories of a good, generous, and gentle people ... hard working, and working hard to advance their country under very treacherous and trying circumstance. A peaceful and freedom loving people. My sincere hope is that the current efforts for unification of the Korean Peninsula are genuine, not a North Korean or North Korean inspired "plot" - leading to the withdrawal of the UN/US forces, "reunification" and then an overthrow of South Korea's 50 year history of development and growing prosperity.

History has shown the leaders of North Korea are not to be trusted. I believe they feel that time is on their side, and they have proved themselves to be cunning, patient, and ruthless. One only needs look at the photo which heads my Korea Map Page to see --- so very clearly --- what these policies and the North's commitment to the "reunification" of Korea - by force - has cost the people of North Korea.

The people of the United States have been blessed with, perhaps, unprecedented prosperity. Behind this prosperity lies what I feel to be the very root of what makes the U.S. great, our unbridled love of FREEDOM. Freedom of speech, freedom of religion, freedom to assemble, freedom to agree, and yes freedom to disagree ... we are a widely diverse people, but above all we are, and we support, freedom loving and freedom seeking people - everywhere. This has been proven time and time again on the battlefields of the world, in our own American Revolution and Civil War, the battlefields in Europe in "The Great Wars - "WW I" and "WW II", in the bloody fields and mountains of Korea and Vietnam and in the desert of Kuwait - regardless of the "politically correct" term of the moment be it War, Police Action, or some "catchy" name for a "Campaign", these battles have been fought ... in the name of, and for the restoration of FREEDOM to oppressed peoples. Let not North Korea underestimate our commitment and resolve to the defense of the freedom loving people of South Korea.

As I was writing these pages, my memories from my "trip" to Korea, America has come under attack - on our own homeland. By the new enemy - terrorists. Not a "State" seeking expansion of their geographic control, but a stateless group of radicals - who's goal is the elimination of our most dearly held values - Home, Family, and Freedom. Rest assured that the people of the United States and the rest of the free world will rise in unison to defend our freedom - to the death if necessary, for we know that .... "FREEDOM IS NOT FREE".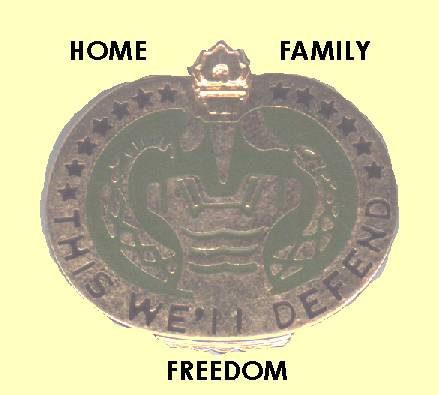 The Terrorists have won the JACKPOT
by attacking "3 of 3"
The coin was "tossed" - 11 September 2001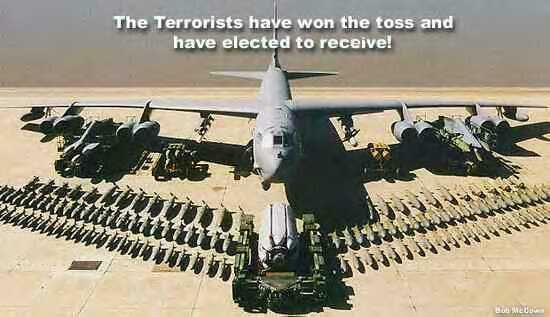 Saber Rattling from the DPRK
27 January 2003 - ADDED - 27 January 2003
MAP of the area of Korea Rick "visited"
To My "Korea Trip" Photos
HOME