- 19 Oct 97

1964 to 1968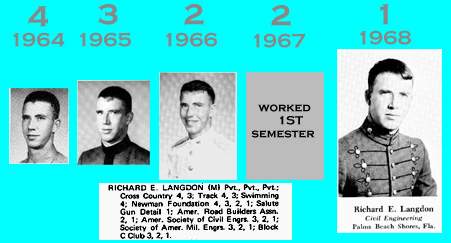 ---
The Citadel is located on the Ashley River on the West side of Charleston, South Carolina. It moved to this location in 1922 from the "Old Citadel" on Marion Square in downtown Charleston where it was founded in 1842. The "Old Citadel" has now been converted to an Embassy Suites Hotel. Officially the school is "The Citadel, The Military College of South Carolina". It is a state supported, four year comprehensive college.
In 1966 The Citadel expanded it's educational role with the addition of a coeducational undergraduate evening study program which was further expanded in 1968 to include graduate degree programs. In 1967 The Citadel admitted the first black to the Corps of Cadets. Obviously then, during my time as a cadet, I was witness to many actions and policy changes which marked change to the history and traditions of The Citadel.
In 1995, under court order (and in this writers opinion - due to an dishonest admissions application) The Citadel admitted the first female to the Corps of Cadets and, effective with the start of the school year 1996, adopted a coeducational admissions policy for the Corps of Cadets. The Citadel has established and is moving toward their goal of becoming the best coeducational military school in the country.
153 YEARS OF TRADITION - WILL NOT DIE
There is a saying - "The only constant thing in life is change". Life as a member of the Corps of Cadets is very intentionally - a difficult life. It is not a choice to be made lightly. If one didn't know this prior to entering The Corps, it becomes painfully clear on entry into the fourth class system. Many don't "make it". The system for the Corps of Cadets is demanding. It is tough. It is pervasive. It controls every aspect of your life while you are a member of The Corps. It's harsh - but it's fair. The weak or uncommitted are weeded out. Regardless of one's "success" or lack of "success" within the cadet military structure, there are no losers among those who have earned the right to wear The Citadel Ring. Those who do "make it" hold it dear and will continue to uphold the traditions which define "The Citadel Man". The ability to perform under pressure with a deeply held sense of honor and duty.
Citadel Alumni Links: The Association of Citadel Men (The Citadel Alumni Association)
---
Rick - School & Work Index | Home | Table of Contents
---
This page created with Netscape Navigator Gold
This page has been visited
times.